Trying to express and understand madness with words is one thing but music is the perfect medium.
Music on the Mind could change your life.
We are aiming to raise £6,000 to fund the project Music on the Mind because we believe in the power of music and singing to improve our own well being and mental health. If you've ever turned up the music in your car as high as it can go or belted out the lyrics to your favorite song in the kitchen while making dinner, and felt better for it after a long day at the office, you'll know exactly what we're aiming to achieve through providing a better state of well being and mental health.
The team behind Music on the Mind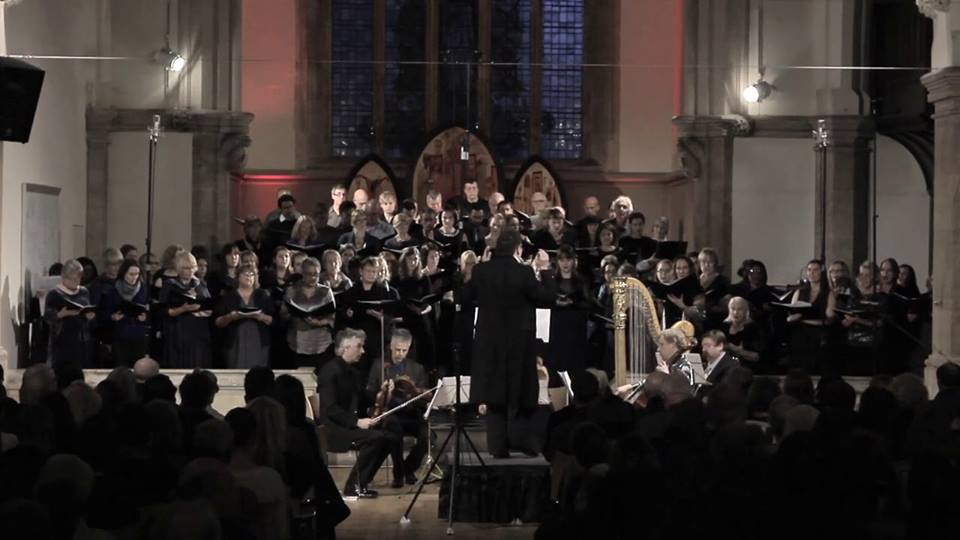 We are a group of colleagues from across the University of Southampton working between faculties and with staff and students alike to put on a successful and enjoyable event that will help raise awareness for how music and singing can improve mental health, while also helping to remove the stigma associated with mental health.
From Physics to English and Student Services to Human Resources the University's choir is an eclectic group of individuals who all have one common aim - to make the world better through music.
If you want to know why we're so passionate about this topic and about our concert, you can read more about  Emma's story on our Music on the Mind blog here .
Our Story
In response to some very personal bereavements that were directly as a result of battling with mental health issues, Professor Harvey Brough and playwright Justin Butcher wrote this moving piece 'Music on the Mind'.
Justin and I wanted to find some music to try to deal with our feeling of inadequacy and incomprehension – that our friends had been suffering. We had somehow missed it, or hadn't asked the right questions, or had been to busy to notice any warning signs. I thought that there must be a lot of music about music and madness, but failed to find any, except for Benjamin Britten's wonderful short piece Rejoice in the Lamb , with words by Christopher Smart, written in Bedlam.
This project intends to bring people together who are facing many of the issues examined in the piece, mental health service users, their families and carers as well as professional health and social care providers. This will form a crucial and powerful part of the project.
Your giving will go to fund the performance a the Turner Sims and if we are really successful and cover our costs, we can continue to fund the community choir 'Mind and Soul11' and other community mental health charity events in the future.
We believe we can really make a difference.  We understand that maintaining well being is an important step to a healthy life.  We have all been sufferers, carer, family or close to someone who has experienced being fragile and mentally unwell.
By sharing this event and coming together to sing in the Mind and Soul Choir11 we think we can begin to make a difference to our own mental health but also to those around us.
Rewards
We have some great rewards to thank everyone who donates, whatever the amount you might give please check them out.  The list is on the right hand side of this text.
Help us succeed
We hope that if you feel passionate about our project you will kindly donate. You can also support our project in lots of other was by emailing your friends, sharing the project on social media or telling others about the project so they too can support our aims. Thank you.
You need as many people as possible to be talking about your project. Everywhere you can think of!
You don't need to give money to help us succeed! Please share this project with anyone you think would support us – on Twitter, Facebook, LinkedIn, by email, telephone, in a chat over the fence or on your blog.
In fact, share it with everyone you know as we think it's a great idea, and the more people who know about it, the more likely we are to make this work out brilliantly.
And we know we said you don't need to give money to help us, but we'd love it if you did! Please sponsor us and help make this happen.  If you wish to give anonymously just click on the £1 or more donation link and you can give as much as you wish and we will keep that between us.
Have you sponsored this project? If so, log in to comment on updates!
7 months, 3 weeks ago
As you can see we've raised a fair bit over the last couple of days through a variety of bake sales that have been happening around campus. Members from the Department of Psychiatry, SONG and staff members from Building 85 have been very busy in their kitchen making lots of yummy treats to sell.
They've done so well that the team in Building 85 raised over £1,000 from their efforts - well done everyone!
We can also now announce that with those bake sales added to our total we've reached our funding goal and the project is now over-funding!


Along with everyone who's donated directly through the project page and to those of you who baked and bought for our many sales across campus we'd like to say a very big, heart felt THANK YOU!
Everything we raise will go towards this project and any future performances we do with the choirs. We're truly grateful and blown away by the support we've seen - thank you so much!
- Music on the Mind Team

7 months, 3 weeks ago
We'd like to say a special thank you to the University's student Psychiatry Society who raised an amazing £205 from a bake sale last week. The monies have now been added to our total and we're nearly at our overall target for the project.





Here's a quote is from student member, Zoe, one of the PsySoc Committee members 

"Mental well-being is largely under-appreciated and ignored, despite it being at the centre of everything we do, from how we think to how we act. Furthermore, those who suffer from mental illness can be discriminated against and shunned from society. PsySoc is a student run society that aims to tackle this stigma and discrimination whilst encouraging and supporting healthcare students to take a more active role in improving the mental health of people in the community. We believe that Music on the Mind is a fantastic way of raising awareness of the mental health issues that plague our society through a medium (in this case, music) which can be enjoyed by anyone, young and old."
8 months ago
It takes the cake!

We've received some fantastic news from our supporters in the Faculty of Biological sciences. This week, the team headed up by Professor Lindy Holden-Dye, raised an amazing £691.57 towards our goal with a series of bake sales… and with what must have been the best cakes going.
Thank you so much to the team for all this effort and baking and to everyone who came along and bought a cake, or two, to support our project. Brilliant effort! More bake sales will be happening and we'll share their success with you in the next week or so.  
9 months ago
Latest update
We have fantastic news.  The project will now receive matched funding from the Vice Chancellors fund, so every penny you pledge to help us will be matched enabling us to double everyone's gift.   Thank you so much  Professor Sir Christopher Snowden. 
vc-fund matchfunded £3000
15 anonymous donations totalling £1440.00